Last Saturday's set of Tiny Races was the toughest yet! Thanks to custom-length routes on Watopia Hilly, Innsbruckring, and Rooftop Rendezvous riders were treated to climbs (respectively) 2 minutes, 1 minutes, and 3 minutes in length. Ouch!
Thanks to a PC crash the first week and a scheduling snafu the second, this was my first time actually riding and finishing all four races. And it was a blast! I even came away with an improbable win on the final race… more on that in another post. A few shots from my races in the Zone 2 time slot: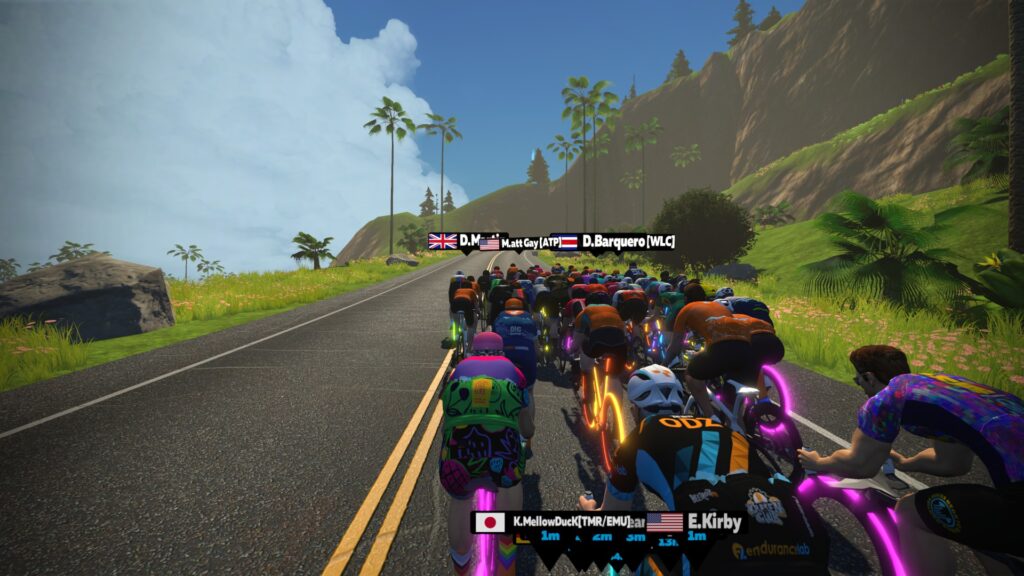 Congrats to Last Week's Winners
A: Simen Nordahl Svendsen (Kalas eSRT)
B: Simon Matros (WattFabrik)
C: Andreas Wikman (SZ)
D: Lorenzo Novella (Team Italy)
A: Berk Kayin (HEX)
B: David Squirrell (DIRT)
C: Peter Kiely (IRLGD)
D: Daniel DS Biking (SZR)
A: Naofumi Nozaki (AHDR)
B: Daniel Manalo (OTR)
C: Tristan Slominski
D: David White (EVO)
* Mike Jonsson and Daniel Manalo tied for points in Zone 2 B division, but Daniel had the highest placing with a 2nd place finish in race 1, so he gets the overall win.
This Week's Routes
This week is all "custom" routes, because racers are really enjoying these. Instead of four routes in four worlds we're doing two in Watopia and two in Makuri Islands.
Here are photos so you can see the precise location of the custom finish lines: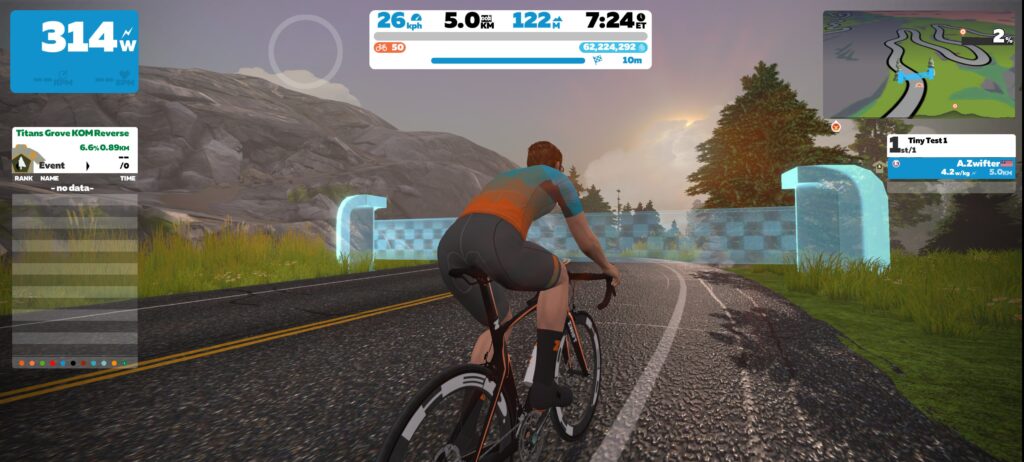 Sign up at zwift.com/events/tag/tinyraces
Join a Chat & Chill Cooldown Event
Immediately following each hour's racing, we've scheduled 30-minute "Chat & Chill" events where riders from all categories can spin out their legs together and have some fun chatting about how it all went down. The events haven't been created yet, but when they're done you'll be able to find them at:
Sign up at zwift.com/events/tag/tinyraces
ZwiftPower Results
Zwift displays preliminary race results in game when you cross the line, but points are computed after all four races finish, with final results on ZwiftPower. (We have to press a ZwiftPower button to compute results manually, so if your rankings don't show up right away, just be patient.)
Riders will earn points based on finish position in each of the 4 Tiny Races. The category winner of each week's series is the rider with the most points across their timezone's 4 races. Here are the links for each timezone's results on ZwiftPower:
Questions or Comments
Post below!