Zwift's design team has been hard at work creating an updated UI, and at a recent media event they shared details of the redesigned homescreen. Here's a peek at what Zwift will be releasing in the coming months…
Design Goals
The homescreen redesign has been a long time coming, but the influx of new users (thanks, Covid) coupled with a company-wide refocus on core experience has helped Zwift prioritize key deliverables for this redesign, namely:
Make content (especially social events) more accessible: instead of events residing in a small corner of the screen, make them front and center. This will reduce the time it takes to find and start an activity, as well as surfacing more social activities for Zwifters to try.
Easier to use: the improved layouts are more intuitive and powerful with consistent navigation elements at the top, better filtering tools, and more. The new layouts will also play nicely with controllers used across various platforms (looking at you, Apple TV!)
Activities Screen
The initial homescreen view brings up a list of upcoming events, as well as several "Just Ride" options for anyone who doesn't want to join a group event.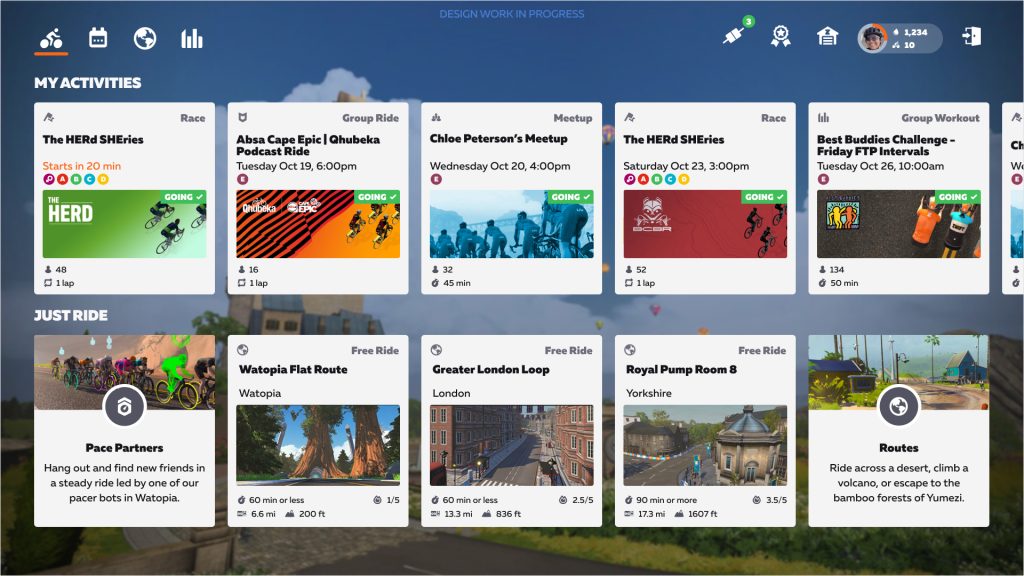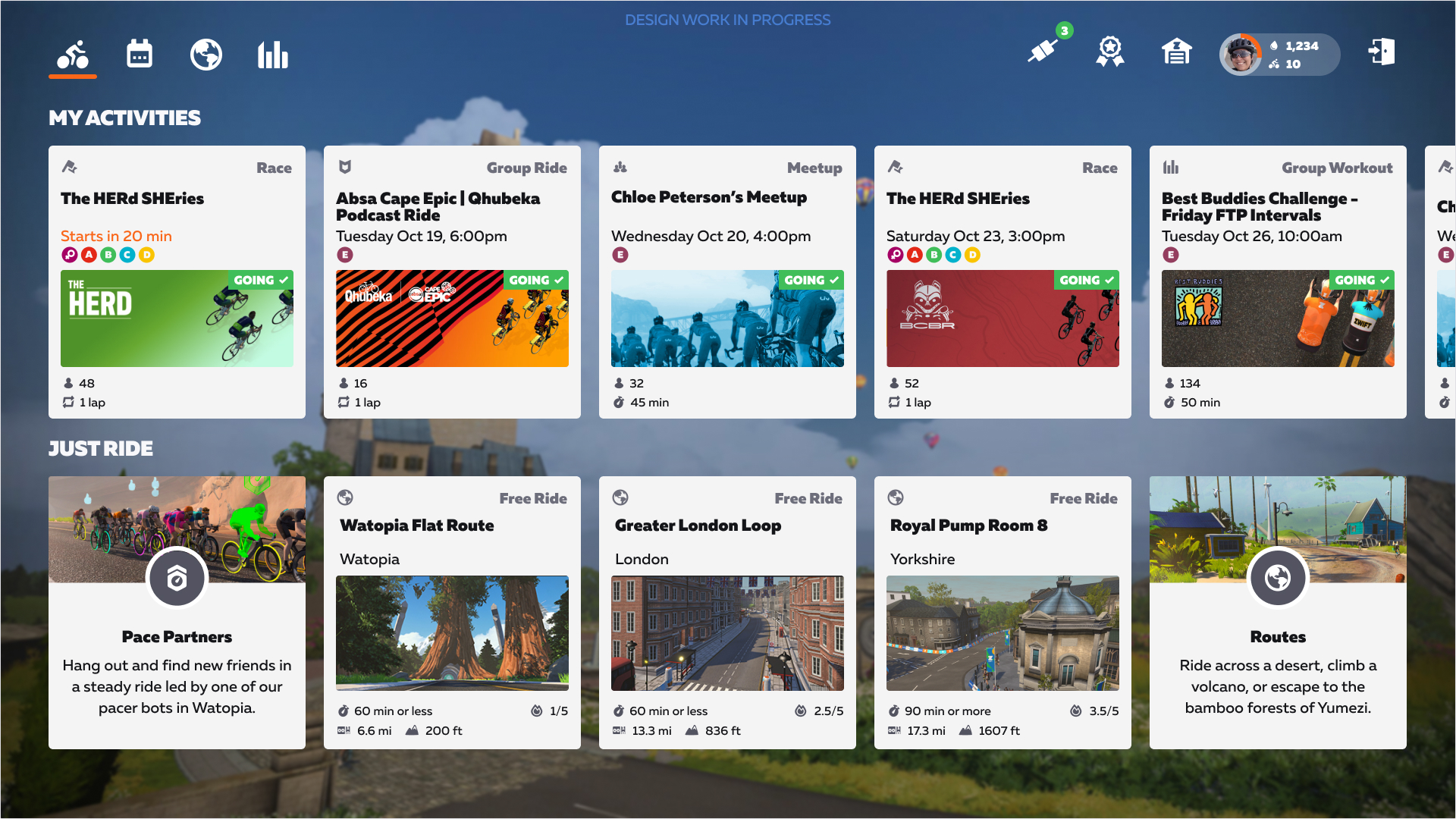 I'm not sure how the "My Activities" and "Just Ride" options are selected for display, but Zwift definitely has the opportunity here to surface content in an intelligent way that really appeals to a particular Zwifter. For example:
"My Activities" should show any event or meetup you're currently signed up for (of course)
"My Actitivities" could also show weekly events you've taken part in before, making it easy for Zwifters to build a habit and get to know others by consistently riding together.
"Just Ride" could suggest routes on today's scheduled worlds where the rider hasn't yet earned the route badge
If a rider consistently chooses a particular free ride route, show that as a "Just Ride" option to make it easy
Upcoming Events
The new homescreen's events browser is receiving a big upgrade, giving Zwifters the ability to browse events in game with similar tools as the Companion app. That includes filtering events by type, group, and more. Clicking on an event brings up a full detail view where you can read the description and select a group to sign up.
Note: all of the screenshots supplied by Zwift indicate "Design work in progress", so these layouts have not yet been finalized. That said, I would like to see some indication of which route an event is being held on so we know what we're signing up to ride!
Routes Browser
The updated routes browser is accessible from an icon at the top-left. Some of the information available here is already available in the current routes browser, but it's getting a helpful redesign plus the addition of:
A difficulty ranking (1-5 scale)
A time estimate in minutes (based on data showing 85% of Zwifters can complete it in X minutes)
The amount of XP you'll earn if it's your first time completing the route
More sorting options including Duration, Name, Effort, Distance, Elevation, and Route Completion
What I Like About It
There's a lot to love in Zwift's planned homescreen redesign. Here are five things that stick out to me:
Focus on events: every avatar in Zwift has a real person behind it, and events are where we can best connect with others and benefit from the encouragement and comraderie which ensues. In-game interaction is Zwift's special sauce, and this redesign puts events front and center, where they should have been all along.
Garage + Drop Shop access: we can easily access our Garage (and the Drop Shop) from an icon at the top-right. This is a common request from Zwifters who (for example) want to switch their bike frame/wheels before starting their ride.
Event details: far to many Zwifters join events from the current homescreen and thus never see the event duration or full description. This redesign makes that information obvious.
Route details: giving routes a difficulty rating as well as a time estimate should prove very helpful, especially to newer riders who can't look at distance+elevation and decide if that route is suitable on a given day.
Looking good: to my eyes, the new design is cleaner, more modern, and more intuitive than the current homescreen. It will be a welcome upgrade that will drive the redesign of the rest of the game's UI.
Not a Full UI Redesign
It's important to note that this is a homescreen redesign, not a full redesign of the entire Zwift game UI. Other screens such as the Drop Shop/Garage, Pairing Screen, and in-game main menu will not be redesigned in this initial rollout. But certainly, the new homescreen is a key first step that will inspire and drive further UI improvements down the road.
Release Date
Zwift says a phased rollout is planned to begin in December 2021 and finish in early 2022.
Your Thoughts
Share below!