LeMond Revolution
Direct Drive Trainer
Key Specs
MSRP: $472 USD
Not interactive/controllable
Where to Buy
This trainer is no longer in production, but you may find a good deal on used or old stock.
More Details
Brand:

LeMond

Axle Compatibility: 130mm/135mm quick release, 12*142mm/12*148mm thru-axle
Does not require calibration
Weight: 14kg
Cassette Included: No
Overall Rating

3.5 stars
based on 2 reviews
Still the best road feel of any trainer out there from GrantSmith September 14, 2020 


The LeMond Revolution has a reputation that precedes it as a wonderfully smooth if a bit loud direct drive trainer. It makes use of a large forged metal fan to generate resistance and a large flywheel to maintain inertia. It is built like a WW2 tank and my unit has given my many many years of solid service.

The power numbers when paired with a speed sensor are accurate on the whole but obviously lack the responsiveness of a power meter. The flywheel is massive and carries great inertia. I personally use the Revolution with a Quarq power meter and it's easy enough to use my gears to emulate changes in gradient.

The unit is fairly loud but not necessarily to the degree that many reviewers state. My wife thankfully allows me to Zwift in the lounge of our small house and has not complained once. I pop earpods in during races but for the most part I ride with no music, and the sound of the Revolution turns to white noise.

This has been a very cost effective way for me to have a power meter on my bike for racing outdoors as well as train indoors with a direct drive unit and I would highly recommend it for anyone thinking about going this route. If I had the money I would certainly want to buy a direct drive smart trainer but I'm more than satisfied with this in the mean time

Easy setup Accurate power Realistic inertiaWell-built Budget-friendly

Wind training! from benjamin_pitt September 8, 2020 
Realistic inertiaWell-built Budget-friendly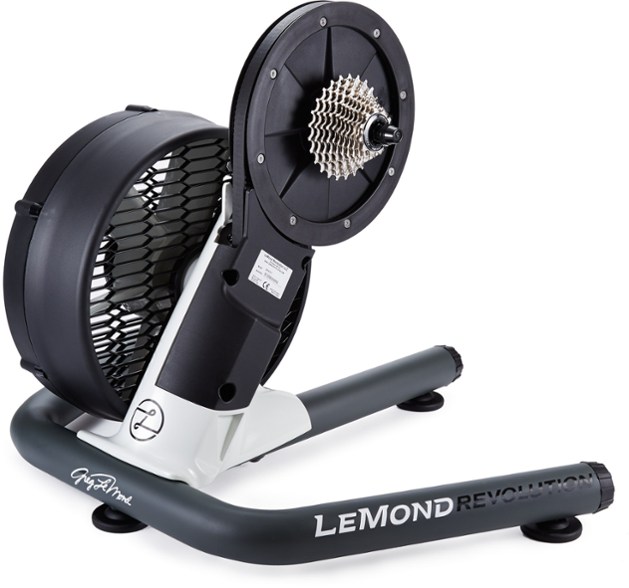 More LeMond Revolution Reviews
Own this trainer? Post a review!
Still the best road feel of any trainer out there from GrantSmith September 14, 2020 


The LeMond Revolution has a reputation that precedes it as a wonderfully smooth if a bit loud direct drive trainer. It makes use of a large forged metal fan to generate resistance and a large flywheel to maintain inertia. It is built like a WW2 tank and my unit has given my many many years of solid service.

The power numbers when paired with a speed sensor are accurate on the whole but obviously lack the responsiveness of a power meter. The flywheel is massive and carries great inertia. I personally use the Revolution with a Quarq power meter and it's easy enough to use my gears to emulate changes in gradient.

The unit is fairly loud but not necessarily to the degree that many reviewers state. My wife thankfully allows me to Zwift in the lounge of our small house and has not complained once. I pop earpods in during races but for the most part I ride with no music, and the sound of the Revolution turns to white noise.

This has been a very cost effective way for me to have a power meter on my bike for racing outdoors as well as train indoors with a direct drive unit and I would highly recommend it for anyone thinking about going this route. If I had the money I would certainly want to buy a direct drive smart trainer but I'm more than satisfied with this in the mean time

Easy setup Accurate power Realistic inertiaWell-built Budget-friendly

Wind training! from benjamin_pitt September 8, 2020 
Realistic inertiaWell-built Budget-friendly