Slovenia is a small country located in Central Europe, bordered by Italy to the west, Austria to the north, Hungary to the northeast, and Croatia to the southeast.  For such a relatively small country (7,827 sq mi), Slovenia currently boasts some of the world's best cyclists.  First, there was Primož Roglič: 2019 and 2020 Vuelta Espana winner. Then there was Tadej Pogačar, 2020 Tour de France winner. And now there is Mitja Kovacic!
Mitja's Challenge
On 30th January, Mitja is attempting to ride for 24 hours on Zwift. 
The miles that Mitja accumulates will go towards the Doddie Active Inter-District challenge North & Midlands, which is a charity designed to tackle Motor Neuron Diseases.  In addition, Mitja has set up a donations page to help raise funds.
About the Charity
Doddie Weir OBE is an ex Scottish Rugby player that earned 61 caps for his country and represented the British and Irish Lions on their successful tour to South Africa in 1997.
In June 2017, Doddie Weir revealed he was suffering from Motor Neuron Disease and subsequently set up a foundation named 'My Name'5 Doddie' in order to "raise funds for research into a cure for MND and to provide grants to people living with the condition."
On 31 October 2018, Doddie announced that his charity had now raised over £1 million.
https://www.myname5doddie.co.uk/
https://doddieaid.com/
What is Motor Neuron Disease?
Motor neurone disease is a rare condition that progressively damages parts of the nervous system. This leads to muscle weakness.
It occurs when specialist nerve cells in the brain and spinal cord called motor neurones stop working properly. This is known as neurodegeneration.
Motor neurones control important muscle activity, such as:
Gripping
Walking
Speaking
Swallowing
Breathing
As the condition progresses, people with motor neurone disease will find some or all of these activities increasingly difficult. Eventually, they may become impossible.
There's currently no cure for motor neurone disease. Treatment aims to:
Make the person feel comfortable and have the best quality of life possible
Compensate for the progressive loss of bodily functions such as mobility, communication, swallowing and breathing
About Mitja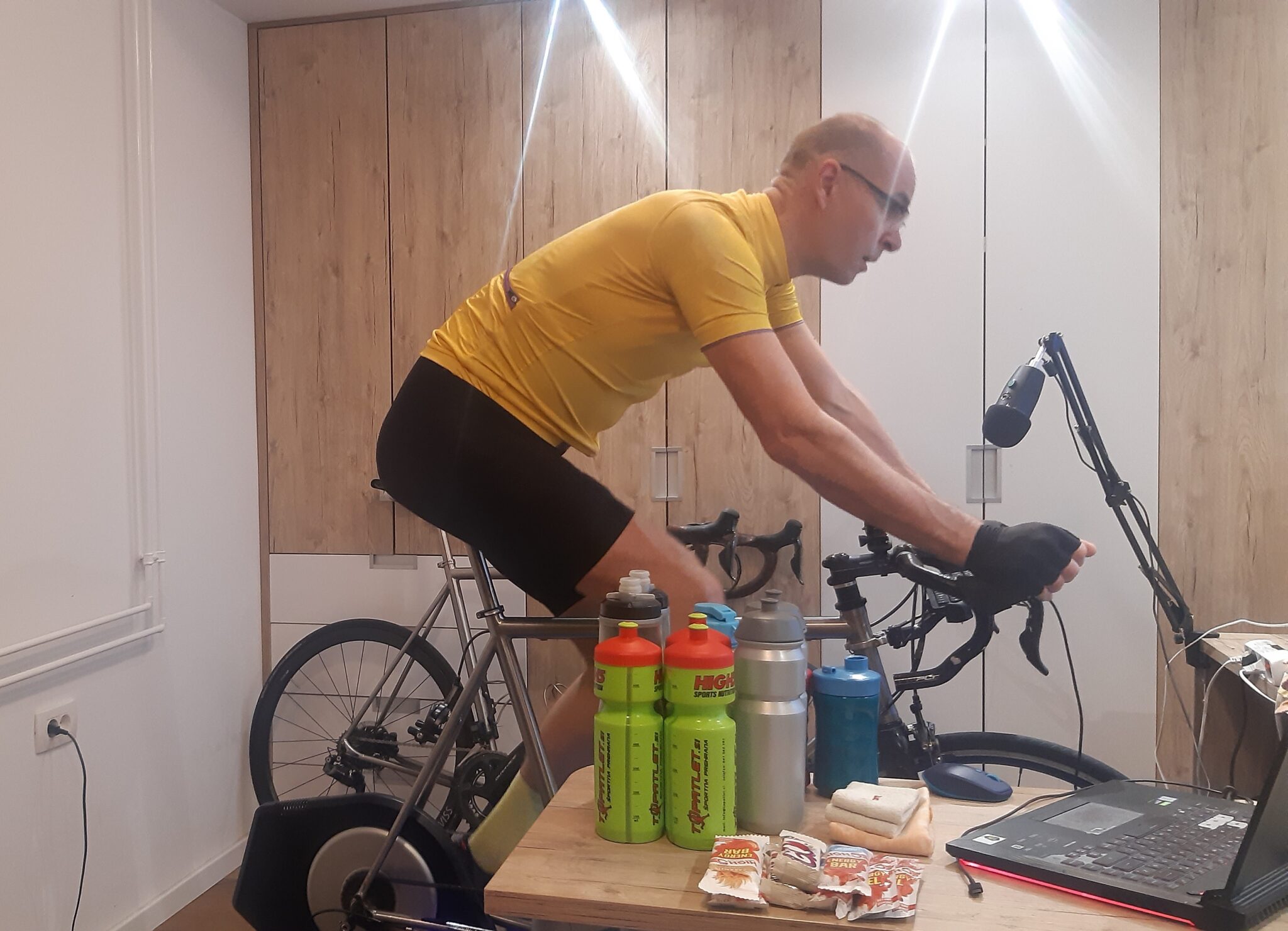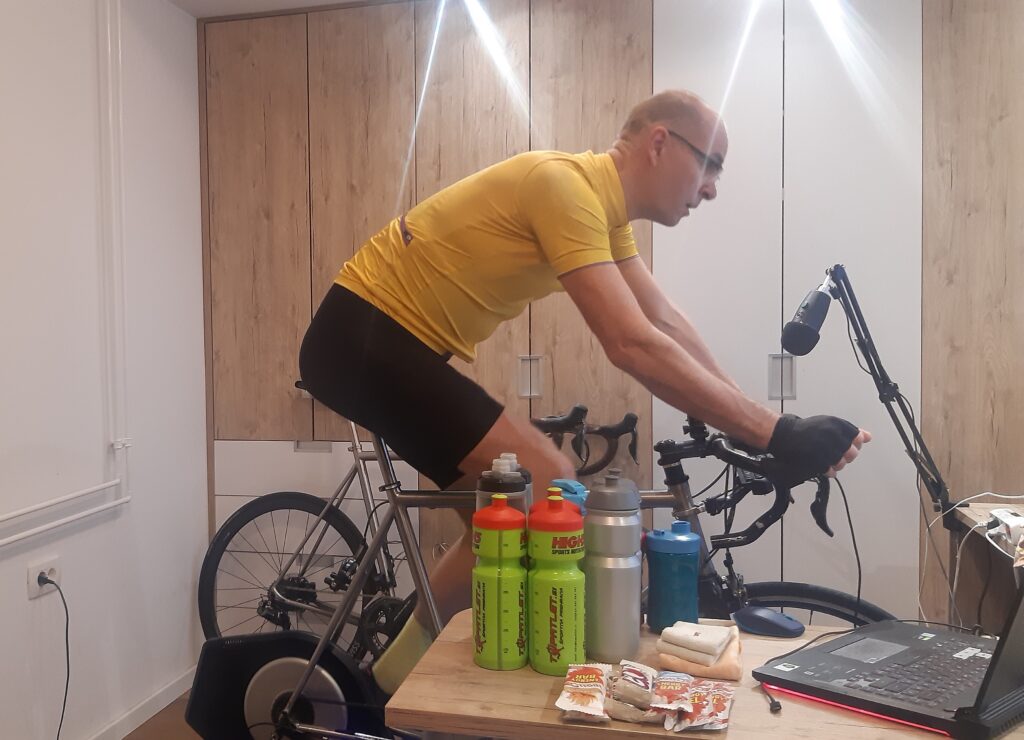 Mitja, like his other Slovenia cycling compatriots, is tough.  His Zwift stats are impressive: a Level 50 rider with over 20,000km accumulated, climbing an elevation of 206,698 meters with 28 days in the saddle.  Needless to say that Mitja is a Category A rider and races for Race3R Team and SloZL Team (Slovenian Zwift League).
Mitja is a veteran cyclist, having spent the last 25 years riding outside where, like many of us, cycling provides the opportunity to relax from the stresses of everyday life.  In contrast, Mitja is relatively new to Zwift, first using the programme in late 2019. He says the experience on Zwift is "a different beast" to cycling in real life (IRL). 
Mitja explains that Zwift is the complete opposite to cycling IRL due to the mental challenges required to ride on a trainer. But he also says it is the community aspect and interaction that "makes you come back to the paincave every day and do things you would never think possible doing indoors. Like racing in a Team Time Trial, doing your max efforts for your team or leading a ride with hundreds of riders from all over the world and helping them survive their first ever hour on indoor trainer."  Incidentally, Mitja actually leads group rides on Zwift and this in itself is a massive skill and undertaking. 
Mitja is not new to endurance events. Having never heard of 'Everesting' until late February 2020 and liking the sound of the challenge, he succeeded at the first attempt on Zwift a few months later and even climbed to a nice round 10,000 vertical meters in the process. 
Most people would be happy with that, but Mitja decided to tackle the endeavour outside after Slovenian ultra cyclist and RAAM racer Marko Baloh mentioned it would take 29 repeats on his local climb to get to 8848 vertical meters. Despite not being short of amazing mountains to ascend in his native Slovenia, as suggested, Mitja opted to undertake the mission on his local climb, near Stara Vrhnika, achieving it in a little over 13 hours.
The idea of cycling 24 hours was mentioned by cycling club mate Ross Duncan, also an endurance cyclist, who undertook 14 'Everestings' in 14 consecutive days.  This was a challenge that Mitja could not pass up and, having read Doddie's story, decided to combine his effort with the greater good.
It's pretty obvious to say that Mitja classifies himself as a climber, having done 50 ascents up Alpe du Zwift and prefering longer races like the Fondos.  As he states, "I like the long races. I'm like a diesel engine. The longer, the harder, the better."
Mitja's Plan
To cycle 24 hours is a huge undertaking, so I asked what the plan was to complete this very challenging task.
He explained that having decided very last minute to undertake the challenge, he is relying on his mileage from the previous year, but has been increasing his steady pace rides, accumulating between 15 to 25 hrs a week and managing to do a 7-hour ride, a 9.5-hour ride, and a 12-hour ride.  From that point, it's as Mitja describes "uncharted waters", having only done a 14–hour trainer ride once before.  Prior to the event, he will skip his max effort events like the Zwift Race League and take a rest day just before the event.
The route that has been selected for the challenge is Watopia's Tempus Fugit, with the occasional Epic KOM to changes things and break the monotony of the flats.
He will start on Saturday, January 30th, 7:30am GMT with a 3R 200km Special Event ride and then continue for 24 hours.
In terms of food, being a vegetarian Mitja has opted to follow his everyday routine, paying attention to hydration and carbohydrate intake two days prior to the event. On the day of the event, he aims to start with a 2 litre smoothie made of bananas, mango, pear, orange, and melon for the first three hours. Later, he'll be switching to pasta mixed with cottage cheese and honey.  He states, "I find it easier to eat in small bites than large portions on a trainer."   The last 8 hours energy bars, recovery bars, and gels will be relied upon.   It is estimated that he will drink 0.75l of fluids (energy/recovery drink, water, smoothie) per hour.
There are no breaks and sleep planned but stops will be allowed to change bibs/jersey, socks, and take toilet breaks. The event will be live streamed on YouTube.
Mitja's Concerns
This is unquestionably a daunting challenge, and I asked Mitja's about his biggest concerns. He explained:
My mind is ready. The real question is how my body will react. Changing kit and riding out of the saddle will be crucial to avoid bruising. Fatigued muscles can change your position on a bike, leading to lower back or knee injury. Palms, wrists, and toes can cause additional issues. Also, I don't know how my digestion will cope with high energy intake after 16 hours of fuelling. I'm expecting the main mental and physical crisis to start at 16-18 hours into the ride and smaller challenges before that.
These are my main concerns. I'm not afraid of stopping and call it a fail if my body tells me to. I've learned to listen to my body while riding without HR monitor or power meter for most of my IRL rides. However, I will try to eliminate as many risks as possible to make it to 24 hours.
Come Support Mitja
Donate to the charity and come and ride with Mitja on 30th January! I for one will ride and support him whilst he is undertaking his challenge, I'll even see if I can get a brief interview en-route.  If not, be sure to support Mitja via his YouTube channel.