I have been writing a lot about the Zwift Community, the incredible people I have been given the chance to meet virtually or IRL. Our craziness makes us the collective producing the most quantity of lactic acid in the world. That makes me super proud.
What has been more surprising over time is to discover that many of us share a set of common values, a sense of purpose, bringing together the notion of effort and the willingness to do the right thing for ourselves and also for others. That makes me even prouder.
Two weeks ago the following was posted on the Coalition Discord Server:

I was overwhelmed by Aidan's over-the-top craziness of course (1400km in 10 days!!!!), but also by the feeling that we, Zwifters, are definitely part of something bigger than what happens in Makuri or the Über Pretzel. It was the perfect example of the universality of Zwift, what makes our community so unique.
I thought, "What a great thing would it be if we could follow Aidan through his adventure?" And I left it there. Only until Roger (another COALITION teammate) told Aidan to tell me to tell Eric to tell me to tell Aidan to tell Roger… I am lost now. The thing is Roger thought it would be a great story for ZI.
After throwing the idea to Eric (he obviously hated it, which is why you are reading it now, ha!), here we are. We are going to regularly report about Aidan's adventure and since I am utterly evil the only thing I really care about is how I am going to make fun of his misadventures.
Aidan and the Virtual Flat Tyre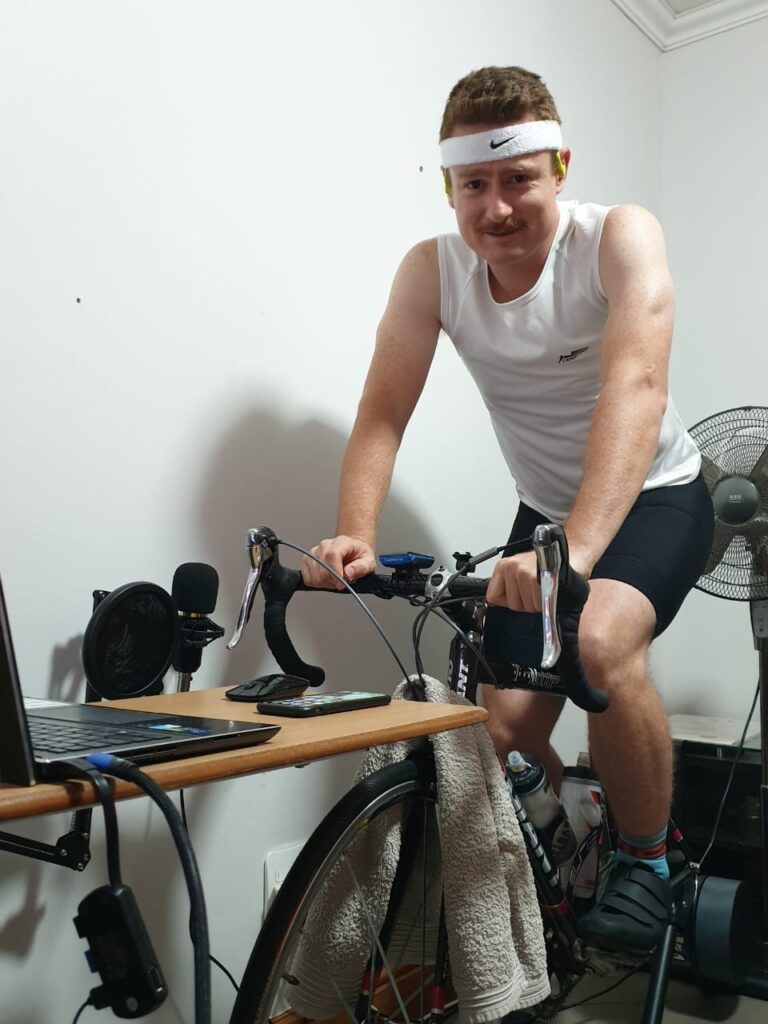 Aidan landed in Watopia, like most of us, by coincidence.
"I used to be a competitive age group cyclist during my school and early university days. Because of the low prospects of making a profession out of the sport coming from South Africa, I decided to give up on the dream and focus on university and a career. 15 years later, with 1 year back on the bike mainly spent Zwifting, I have moved from the infamous route badge hunts in the solo days, to racing, and eventually joining The Coalition which has provided a community of like-minded and supportive people."
Aidan became addicted, like most of us. It's like we all have a hidden Zwift gene in our DNA, waiting to be activated the first day you hit Titans Grove. He has also experienced some of those ridiculous experiences only Zwifters can relate to.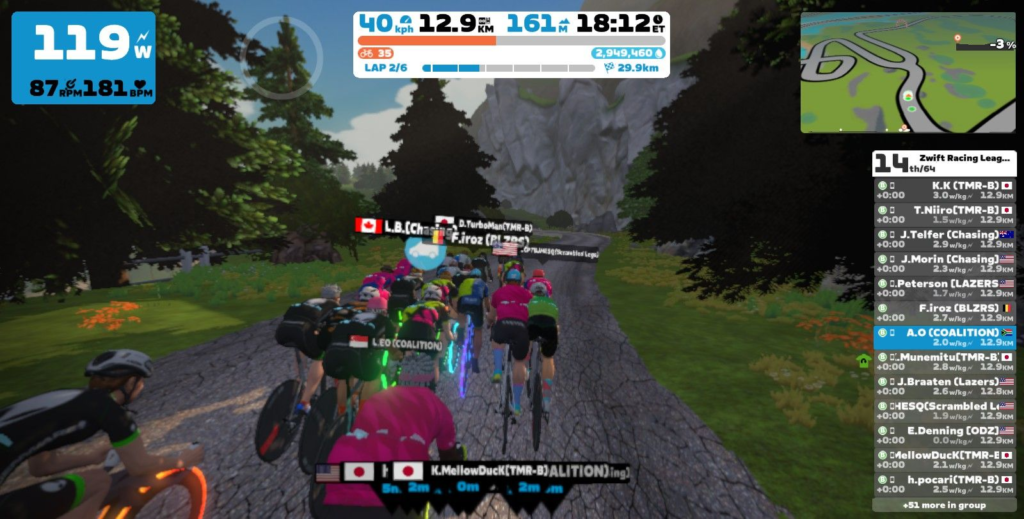 "I had this idea that things were easy now, safe, no punctures, and plain sailing. But on one particular ride, I found myself both injured and with what I call a Virtual Flat Tyre, otherwise known as 'Load Shedding'. Here in South Africa, 'Load Shedding' is when the national electricity supplier cannot generate enough electricity for the country and they, seemingly randomly (although they do have schedules), turn off your power for anything between 2, 6 or even sometimes 12 hours per day. No power = Virtual Flat. Basically your Zwift is still running on your laptop but your power source is off. Your legs spinning at one hell of a cadence but your avatar isn't going anywhere."
Extreme Ride 4 Hunger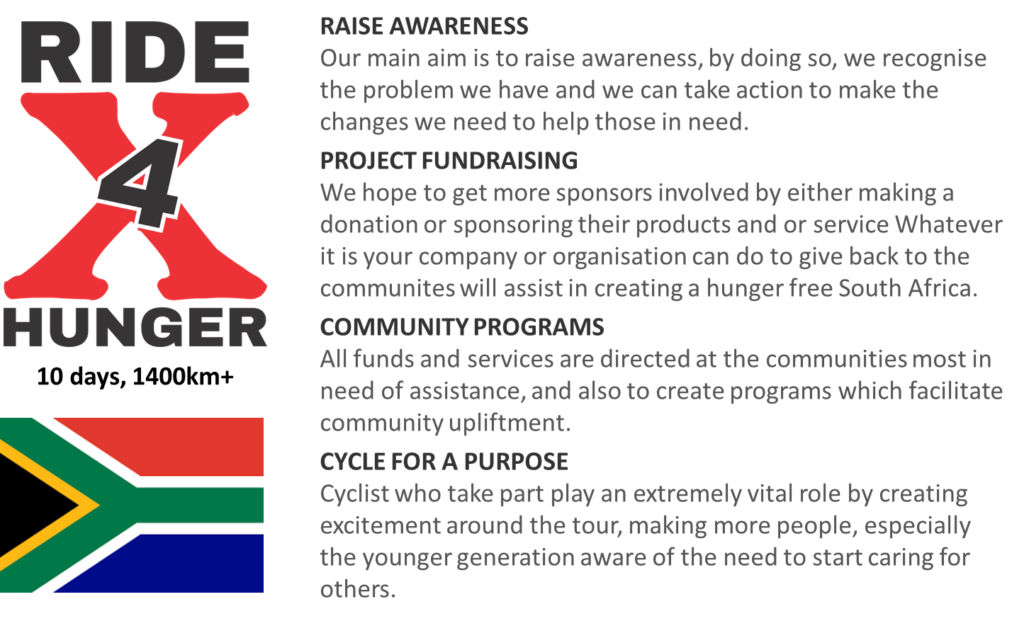 "The first time I heard about Extreme Ride 4 Hunger was from Wesley, a friend who was planning to participate in the charity event in March 2022. At the time, he tried to convince me to join in, but the distances were rather daunting. I did not feel ready to take on this challenge having just started riding on and off and of course the sacrifices that go with such a challenge.
After Wesley did the tour earlier this year, I offered him a place to stay for a few days. During this time Wesley told me more about each day, and that after completing these great distances, the stage would end with an outreach to a community in need. This is where the cyclists hand out much-needed food and supplies.
If you know a little about South Africa's past, then it should come as no surprise that even to this day there are many underprivileged and uneducated people, where every day is a struggle for survival and basic needs like food and water.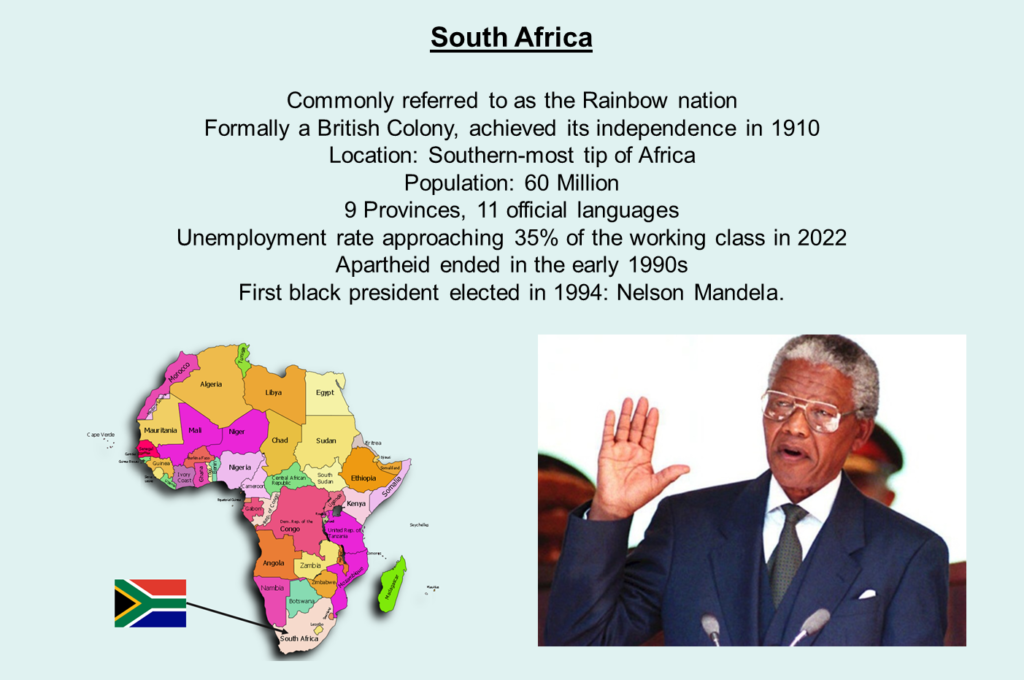 I have contributed through charities like many of us, but actually being on the ground, experiencing what Wesley and others had experienced in the 2022 edition was something that I have always wanted to be part of.
Zwift played a major role in the decision-making process, as it provided me with a safe and convenient place to train, the confidence that I could accomplish this distance and contribute to this amazing project, and a community to count on when in doubt during the preparation.
This time, encouraged by Wesley and Amarel, my wife, I felt the purpose and the mission was way bigger than the daunting distances. I was in for 2023."
Not Alone In the Big Challenge
Following the euphoria and excitement of entering the adventure of a lifetime, by the time you understand that it is too late to revert your promise, that initial feeling of plenitude is replaced by an ocean of doubts. That's exactly what happened to Aidan.
"What went through my mind at first was yes this sounds like a great idea, I have made a great decision. Some moments later 'What did I just get myself into?!?!?!?' and self-doubt creeps in. This is the moment you lean on your support structures to help rationalise your decision. Some of the responses can be hilarious and others really do help you come to peace with your decision.
You have got plenty of time to train.
Remember that your butt will hurt for a good cause
Do you even still know how to change a puncture?
The answer is no, he doesn't know how to change a puncture (does he?). Aidan also did not know how to raise funds or have some exposure.
"The fact of the matter is I've never taken on a challenge quite like this before, taking on a charity drive, taking on the responsibility of more than finding money in sponsorship but going that step further and taking it up myself to raise additional funds has given a great feeling of responsibility towards community and helping others. Quickly you become humbled by others that have done similar in the past. Deep respect. Much time and dedication goes into it. Since this journey began I noticed lots of fundraising from zwifters streaming, for all sorts of causes and charities."
In the next chapter of Aidan's saga, you will laugh at his struggle learning how to stream his Zwift rides.
In the meantime, you can show him he is not by himself in his extreme saddle sore adventure by following him on Strava or Twitch TV, or contributing to his fundraising here. You can also spread the word by sharing his story on social networks. For the most motivated, on top of that you can ride with him in Watopia and overwhelm Aidan with Ride-Ons by adding him as a friend in Zwift Companion.