David Allonby (Vision) and Tim Cartwright (KissRT) shared the first step of the podium in the KISS EU of Nov 10th. On the flat roads of center London, the two englishmen went head-to-head to end up in a sprint finish.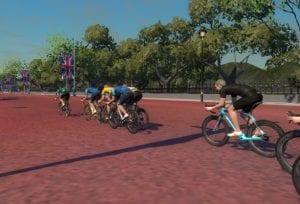 Right from the gun, the Kiss Racing Team showed its hand trying to isolate Allonby. One by one, Branden Meltingtallow, Edgaras Spiridonov and Dafydd Williams attacked to tire the Vision rider, but the pack caught up with all the breaks until halfway through the race. Some other riders tried to break away as well, like Pedro Barroso (PTz), Ole Bergtun and Eoin McGovern.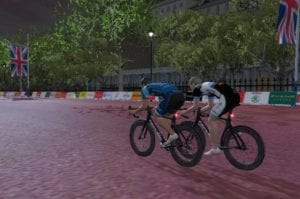 With Trafalgar climb as the only uphill for the whole course the spots to attack were a limited, but that didn't keep the two TT specialists from going forward. Approaching the middle of the race, David Allonby (Vision) and Tim Cartwright (KissRT) went ahead and worked together for the remaining kilometers. The lead over the pack grew quickly as the chase couldn't form up, as Cartwright's teammates were keeping it from happening.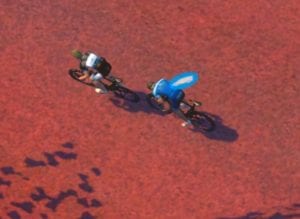 The final sprint, head-to-head between Cartwright and Allonby started at the last kilometer, each throwing in their aero power-up, and coming to one of the closest in recent Zwifstory. Zwiftpower said Cartwright came out first, the "photo-finish" services said Allonby did… "Whatever the official results say, it was an awesome race from Tim, says Allonby. We stayed together and settled this in a really close sprint: top racing." The same speech comes from the KissRT rider: "I think I maxed out my turbo in that sprint" joked Cartwright.
Welcome to "Sprinterlandria"
About 35 seconds later, Anthony Portalino took third place in the bunch sprint over Dafydd Williams (KissRT) and Edgaras Spiridonov (KissRT). There were about 15 riders in the pack at the finish line, one of the biggest bunch sprints coming to the finish in the "Sprinterlandria" of the London Classique Course.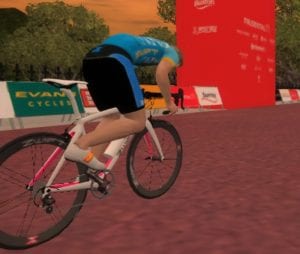 Following the A race, the Mall only saw massive sprints to settle the results between the packs. In the B category, Jared Millar outsprinted BJ Afonso (PTz) and Sam Bacon (BR Team). For the Cs, a couple of riders got upgraded, but Roger Kristiansen took the win for the PTz Team, with Jesper Faxe (Vikings) coming in second and Brian McCardle coming in third. Ultimately, in the D race, Andrew Keedle took his second win of the week by going solo. Andrew Nokes and Jonathan Miller went on to complete a 100%-British podium.
Here is the race commentary from Nathan Guerra.
Check out his Twitch.tv channel >