Raced on the ever so famous Figure 8, the Valentine's Day KISS EU saw a lot of action in every category. For the As, Kleiven (BRTeam) took the win over Primon and Diggers.
The reverse KoM was the first breaking point of the race, under Daniel Schmidheiny's impulsion. The Team X rider found himself surrounded by 20-ish riders at the top of the hill, including some strong hitters like Cheyne, Gama (PTz), Primon, Cartwright (KissRT), Allonby, Webb (Vision), the Vegan Cyclist, Portia (Vision), Hein (Team X) or Boniface (Team ODZ).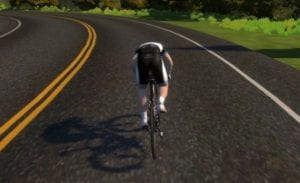 The flat part of the course highlighted the attempts of Adam Webb (Vision) and Tim Cartwright (KissRT) to get away before the forward KoM. Despite some strong attacks, the pack stayed together until the hill, where Primon, Boniface (Team ODZ) and Cartwright (KissRT) tried to break it apart. Coming into the descent, there were 11 riders opening the road: Cartwright (KissRT), Boniface (Team ODZ), Schmidheiny (Team X), Webb (Vision), Primon, Kleiven (BRTeam), Yakamura, Allonby, Stevens (TK.be), Diggers and the Vegan Cyclist.
The heartbreak sprint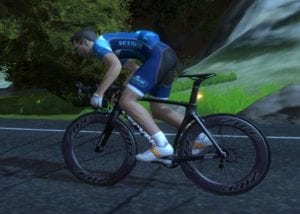 In the last kilometers, Cartwright (KissRT) followed Yakamura's attack, but they were caught going into the Esses. Jernej Primon countered with Kleiven (BRTeam) coming back a few seconds later. Keeping a few seconds over the pack, the Slovenian rider launched the sprint, but Njal Eivind Kleiven's saved aero boost gave the win to the BRT rider. Coming from behind, Nick Diggers took 3rd by winning the bunch sprint. With his 2nd place and by making the decisive move in the ultimate kilometers, Jernej Primon won the "q/l Report – Combativity Award" of the day.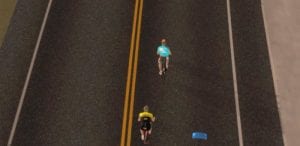 In the B category, Julien Beijer (Team X) took the win and will soon be looking into the A cat. Robert Lille-Rodberget (Vikings) took 2nd place and David Galati (LaPrima) completed the podium. For the Cs, Tor Berge took the win over Trond Stian Jensen and Thomas Vang. The D category saw Rob Purbrick take the win, with Lee Pink (BRTeam) and Andreas Kunast completing the podium.
Quite a few women took on the race as well. Trond Stian Jenssen (C) was the first to cross the line in front of Natalie Batey (B), Brith Gulmæle (B) and Vision Cycling's Zoe Corcoran (C).
---
Here is the race commentary from Nathan Guerra.
Check it out on the Zwift Community Live Twitch.tv channel >
---
KISS EU – Feb. 14th / Provisional Results :
A Category :
1- N.Kleiven (NOR-BRTeam)
2- J.Primon (SLO-U/A)
3-N.Diggers (AUS-U/A)
B Category :
1- J.Beijer (NED-Team X)
2- R.Lille-Rodberget (NOR-Vikings)
3- D.Galati (USA-LaPrima)
C Category :
1- T.Berge (NOR-U/A)
2- T. Jensen (NOR-U/A)
3- T.Vang (NOR-U/A)
D Category :
1- R.Purbrick (GBR-U/A)
2- L.Pink (GBR-BRTeam)
3- A.Kunast (GER-U/A)
Women :
1- T.Jensen (NOR-U/A)
2- N.Batey (GBR-U/A)
3- B.Gulmæle (NOR-U/A)
q/l Report Combativity : J.Primon (SLO-U/A)
-the q/l Report-