The 4 "bumps" in the hilly race led to a pretty clear race from the get-go in the KISS EU of Nov 8th. David Allonby (Vision) took the win in the As, with Si Hughes and Pascal Evers completing the podium.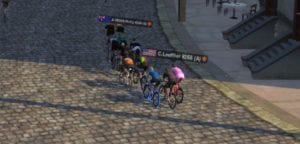 Coming early in the race, the first hill was a moment of choice to go forward for a dozen riders, led by Kim Little (Team X) and Pascal Evers. For the first kilometers there were 11 up front : Kim Little (Team X), Carl Loeffler, Anthony Portalino, Dafydd Williams (KissRT), Penn Henderson, Pascal Evers, Si Hughes, Shawn Gray (Team X), Koen Van Geyt, D.Bane and David Allonby (Vision).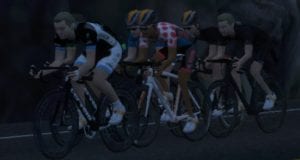 Despite a few attacks through the Esses, the second hill made the cut and the big break went on to last for the remaining kilometers. On board, we could find: Allonby (Vision), Hughes, Evers, Portalino, Van Geyt, Loeffler and Williams (KissRT). At that point the first chase group was already half a minute behind.
A fighting duet
It was up to Allonby, then, to ring the last lap bell. The englishman attacked right at the line, putting the hammer down and smashing the group of seven into seven groups of one. "He was way too strong, admits Williams. The first three climbs were brutal, fourth one was too much for me. I'm pretty happy with my result, in the end. This course suits me well and I made the best of it".
At the top of the hill, only Si Hughes managed to keep up with Allonby, and held on to him until the approach of the last Esses. Allonby tried in the descent first, in the climb before the village then coming to the sprint banner, the Vision rider ultimately went on to take the win.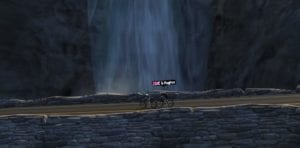 In the B category, Havard Thomassen (Vikings) took the win over Austestad and Fitzsimmons. Springett took the win in the C category, whereas Andrew Keedle won the D race.
---
Here is the race commentary from Nathan Guerra.
Check out his Twitch.tv channel >
---
KISS EU – Nov 8th :
A Category:
1- D.Allonby (GBR-Vision)
2- S.Hughes (GBR-U/A)
3- P.Evers (NED-U/A)
B Category:
1- H.Thomassen (NOR-Vikings)
2- M.Austestad (NOR-U/A)
3- T.Fitzsimmons (AUS-U/A)
C Category:
1- L.Springett (GBR-U/A)
2- L.Dinsdale (GBR-KissRT)
3- P.Harvey (GBR-U/A)
D Category:
1- A.Keedle (GBR-U/A)
2- J.Harders (USA-U/A)
3- K.Spence (GBR-U/A)
See full race results including rider power, times, and heartrate on ZwiftPower.com >
-the q/l report-