There are three types of indoor bike setups in use today:
An outdoor bicycle mounted to a trainer. This may or may not be a smart trainer, and it may require the back wheel to be removed. This is the most common setup on Zwift, by far.
An outdoor bicycle on a set of rollers.
A smart bike, which is essentially an indoor-only combination of a bike and a smart trainer.
Designer and Inventor Paul Lancefield wondered if there was a better way. Then he created it! Called the "FastChain Aesthete," his indoor-only frame is made to be mounted to a smart trainer and look good in your home setting.
Paul recognized that indoor cycling enthusiasts need a bike that can remain indoors without worrying about the mess and inconvenience of bringing an outdoor bike inside for use on the trainer. He also noted that most standard bike frames look unsightly in a home setting, which can be especially problematic for people who live in smaller spaces or have a lovely home that they want to keep looking at its best.
FastChain Aesthete is made from wood (oak and plywood core), and each one is expertly crafted, personalized with an engraving of the rider's name or preferred phrase on the side, and finished by hand to ensure every detail is perfect. The design presents an "architectural" appearance, making it look like a piece of art that can be displayed in the home.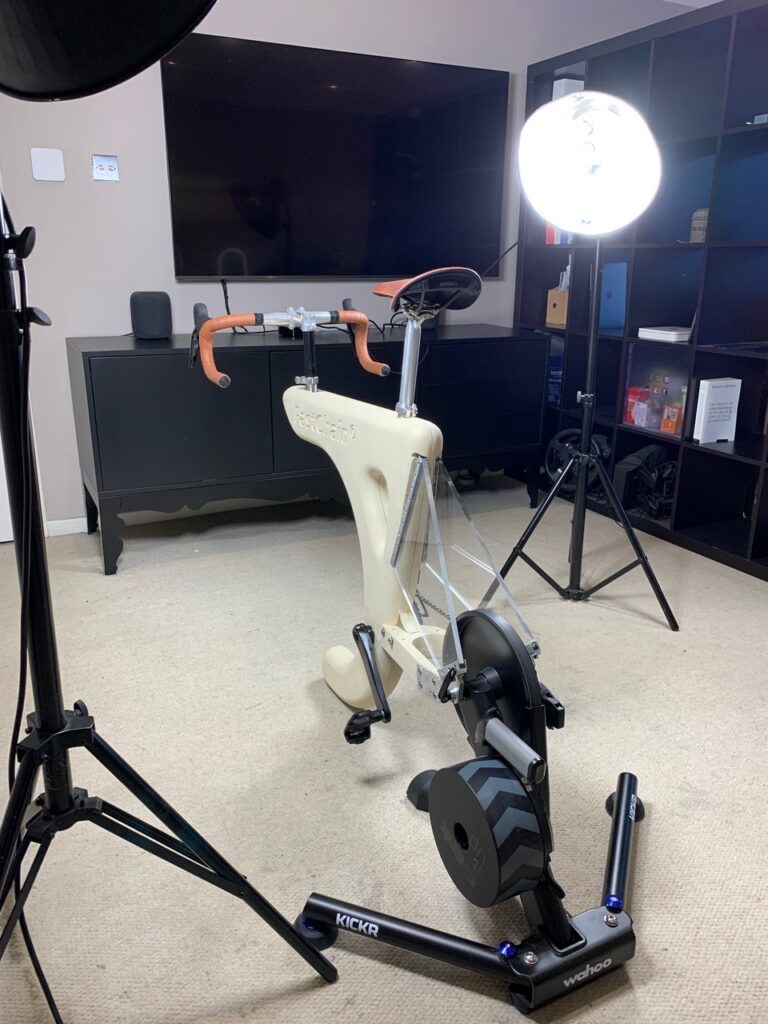 The first prototype (pictured) was manufactured out of MDF, allowing the design form and fit to be verified. Paul has confirmed that the design functions well, provides a secure and stable base, and presents no danger of tipping forward even when pedaled rigorously during a competitive sprint.
The next version, a beta product to be made from plywood and oak, will be finished with a professionally sprayed waterproof polymeric clear coat. This is being produced for a Swiss customer who wants to train on a bike that complements his home training room's mountain view. (A photo journal of its production and installation will be published on the FastChain website over the next few weeks and can be followed here.)
One happy accident Paul discovered is that when the FastChain Aesthete is paired with a Wahoo KICKR, it can be tilted upright. In this orientation, it occupies a smaller footprint and takes on the appearance of a bespoke sculpture. This adds an extra level of design and functionality to the frame. Paul is exploring if the frame can be secured in the same orientation on other smart trainers and where possible will provide trainer-specific "wedges" so this may be achieved.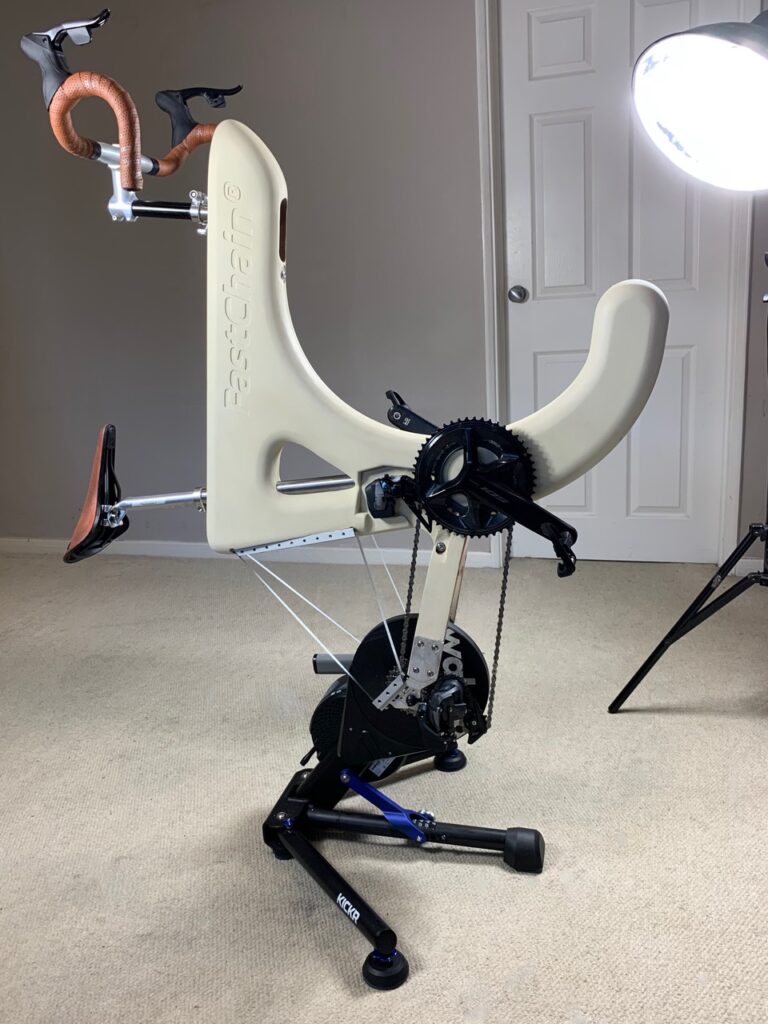 Beta Testers Wanted
Paul's business – FastChain – is now looking for beta testers in the UK. Anyone purchasing a beta version will receive a special level of service. FastChain will be video blogging the production process, and each customer will receive regular videos demonstrating the progress of his bike.
FastChain plan that handlebar-mounted bottle holders will be available, and an optional chain guard can be added for extra protection. The prototype shown in these photographs features a wireless SRAM eTAP Force 12-speed groupset. It is finished with brown bar tape and a stylish brown Brooks C17 saddle. For indoor cycling, FastChain recommends synthetic materials for the last two items though leather versions can also be supplied if that is the customer's preference.
Pricing
Pricing for the final commercial release has not been finalized yet, but for the development period, pricing will advantageously recognize the beta status and start at £3000, with a £1500 downpayment required to start production and assembly of the bespoke customized frame.
Wrapping It Up
The FastChain Aesthete isn't for everyone, but it will certainly appeal to, shall we say, "discerning indoor athletes" who want a stylish and functional bike frame that can be left out in the house.
The wood material and customizable design make it a unique addition to any home, and we're looking forward to seeing the continued evolution of this innovative bike frame!
Questions or Comments
Post below!