Race 3 of Zwift Racing League Season 2 took place yesterday, finishing atop the Innsbruck KOM – the longest climb in Zwift Racing League history.
With a ~25 minute climb at the end, I knew I wouldn't get anywhere near a podium finish. And I didn't fancy my chances of earning intermediate sprint points, with the Leg Snapper standing guard like some sort of tarmac sentry just before the sprint.
Heck, I even volunteered to sit the week out, if my team could find a rider better suited to the route. But alas, no such rider was found: I would have to do what I could to grab points for my team.
Pre-Race Strategy
My team (the DIRT Hellhounds) had been chatting on Discord in the days leading up to the race, and we never really settled on a cohesive strategy because that was impossible to do. Instead, we discussed how the race would probably unfold, and we each set goals for how we would approach the race given our strengths.
For me, an "overmuscled cyclist" who sprints better than he climbs, it looked like this:
Attack the first Leg Snapper with max effort if needed, to stay in touch with the front group
If I make it over with the front, hit the sprint and try to get some intermediate points
Try to stay in touch with the front for the three laps of Innsbrucking, so I can put time into those behind and have a better chance of a higher final placing atop the KOM
The Warmup
Zwift Racing League's Tuesday events are my priority races each week, so I do my best to be fresh for race day. That meant a day off on Sunday, and an easy Monday. But Monday's ride had me worried – I didn't feel strong at all, and my heart rate didn't want to get out of zone 2. This usually happens if I'm getting sick, or need recovery… or both!
So I didn't push it on Monday, but made sure I ate and slept well. Then I executed my usual pre-race warmup routine on Tuesday, which included my three favorite race-day products:
Caffeine gum – three pieces (300mg), 1 hour before the race.
PR lotion on my legs about 45 minutes before the race. More bicarb=less burning.
The Nopinz Subzero kit, with two sets of freezer packs. One for the start, and one for the final climb!
I got on around 40 minutes before the race began, and spun with Cara Cadence for my warmup. I happily sensed that the legs felt good, and my heart rate was responsive. Soon enough it was time to hit the start pens. Let's race!
The Start
We figured the start wouldn't be too crazy, because everyone knew the Leg Snapper is where the fireworks would happen. And that was exactly right: I averaged ~300W for the first three minutes to easily stay in the front group.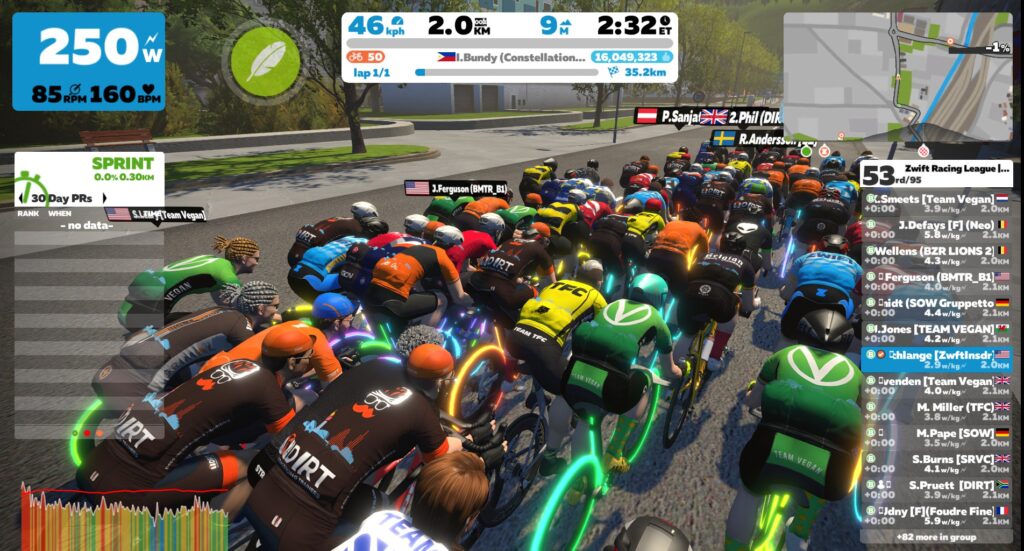 During the lead-in to the first Leg Snapper I was just conserving as much as possible, because I knew the first Snapper would be a max effort for me as the strongest riders pushed hard to make a selection so they could reduce the competition for the sprint intermediate. (My 1-minute power is a big weakness when it comes to short climbs in competitive fields – 6.5w/kg doesn't keep you in the mix very long against guys who can do 8w/kg or more!)
As we hit the brown bricks leading into the Leg Snapper I worked my way to the front of the group so I'd be able to slip backward a bit on the climb if necessary while still staying in touch with the pack. I used my feather powerup as the road pitched up, so I could keep my entry momentum for just a bit longer. And I stayed seated for this climb, trying to keep my heart rate low and power consistent.
And I hung in there! Over the top things were a bit strung out, but it came back together on the descent. I was in the mix for the sprint!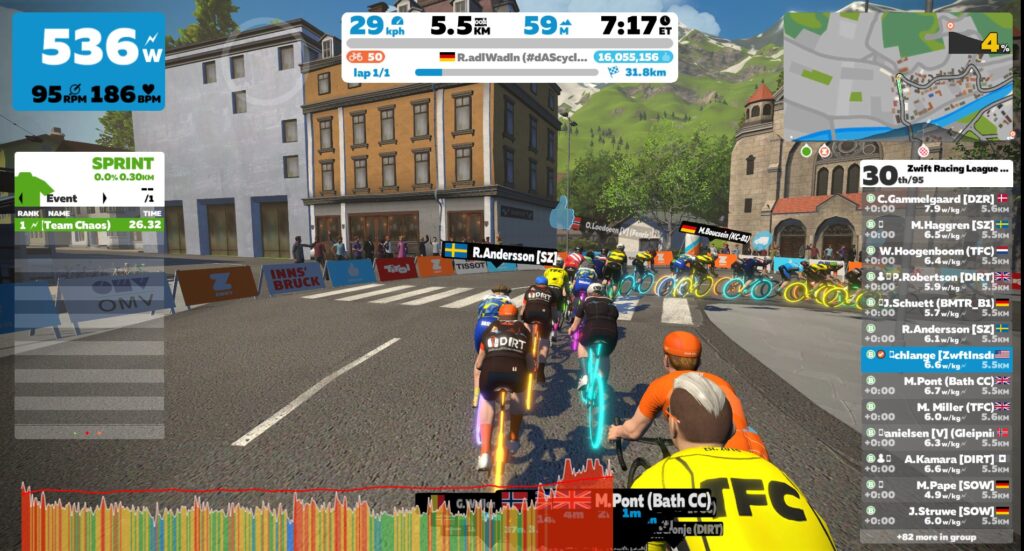 I had no powerup for the sprint, though… and I was far from recovered after a maximal 1-minute effort up the Leg Snapper. When riders began sprinting I went for it… but got left in the dust, crossing the sprint banner in 25th place. But two of my teammates (Tucker and Pruett) finished 1st and 2nd – extra points, baby!
Wash, Rinse, Repeat
As I predicted in my route recon post, the chase group caught our front group as we made our way around the Innsbruckring loop. The front group had no incentive to keep pushing, because they knew the group would split up the Leg Snapper yet again. But the chase group had incentive, because they wanted to stay close to the front group and hopefully pass some of them on the final climb.
Laps 2 and 3 were similar to 1, just a bit easier. Each time a group of 30 or so split off on the Leg Snapper. I never had the legs to contest the sprint. After the third sprint I found myself even further behind the front group than I'd been on laps 1 and 2, so I waited for a few other riders to catch, and we easily caught up to the front group just before the final KOM began.
The Final Climb
The Innsbruck KOM finish had given me nightmares for a week. I had hoped I would start the climb in the front group, thanks to any splits coming together. That all went according to plan. But how would the climb shake out? This was by far the longest climb we'd taken on in ZRL, and I had no idea how strong the competition would be.
But I knew it wouldn't be pretty. And it wasn't.
I started the climb in 39th place, the front group quickly riding away at a pace I knew I'd never sustain. Then I just tried to hold steady wattage – but my steady wattage wasn't enough to keep me ahead of those chasing from behind. I finished in 50th place after putting in a max effort in the final kilometer to pass a few riders.
It felt good to gain a couple spots in the end… but losing 11 spots hurt more.
See my activity on Zwift >
See my activity on Strava >
See race results on ZwiftPower >
Watch my race video:
Team Result
It looks like we took third overall, behind first place KIRCHMAIR B Bees and second place Foudre Bourgogne. That keeps us in second place on our division.
Foudre brought in a ringer for this race: one Camille Udny, a lady weighing in at 44kg and thus able to average 4.7wkg for this race while still being a B, since she's nowhere near the 250W limit. Smart move by Foudre, and a commanding win by Camille who blew all the dudes out of the water, winning by 13 seconds!
Our top finisher was Scott Olsen in 5th. The sprint bonus points from Tucker and Pruett helped hugely, amounting to 40% of our total of 170 points. Me? I added a paltry 13 points to the team total.
Takeaways
My result is nothing to crow about, but it feels good to set some PRs if nothing else:
1-minute power PB on the first Leg Snapper: 537W
Leg Snapper PR: 50 seconds/550W
Innsbruckring PR: 11:22 (previous best was 12:02)
Innsbruck KOM PR: 23:37 (previous best was 26:34)
Given 20/20 hindsight, I would have grabbed more points for my team if I'd eased up on the Leg Snapper and sat in with the chase group through each sprint, content to reel in the front group each lap. This would have resulted in me arriving at the base of the KOM in the exact same place as I did in this race, but with fresher legs. (My guess is I could have finished perhaps 10 places higher with those hypothetically fresher legs.)
But that's a big gamble to take! Some of the earlier races in the day had seen the groups coming back together – others had not. So I think the smartest approach would have been to handle the first lap just like I did – but ease up on the second and third laps, since I could be reasonably sure everything would come back together, and I knew I didn't have the sprint legs to earn any extra points from the front group.
Next time!
Your Thoughts
Did you race in ZRL race 3? How did it work out for you and your team? Comment below!