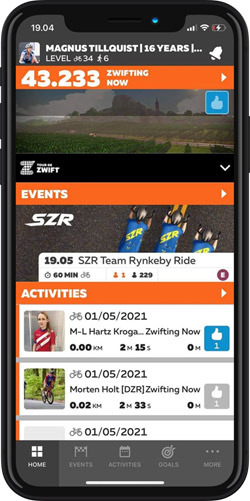 Yesterday's Peak Zwift surprised some of us, since it was on a Monday and fairly early in January. But today's new peak is less surprising, since Tuesdays are when Peak Zwift often happens.
Today's peak jumped to 43,233, up 15% from yesterday's peak of 37,569. Quite a jump!
The peak occurred just after 10am Pacific time as another Tour de Zwift event was kicking off. Many Zwifters sent us Companion app screenshots showing 40k+ Zwifters online, but the prize goes to Magnus Tillquist who snapped the highest number we've seen yet – 43,233!
Reminder: Zwift hasn't been confirming precise peak numbers, so it's up to us to spot new records. That means we don't know the precise Peak Zwift number, but we can certainly get close.
If you think you've spotted a new Peak Zwift, snap a screenshot and send it over to me at [email protected]!
What will 2021's Peak Zwift number be, and when will it happen? Comment below with your guess!
UPDATE: Astute Zwifter Daren Chandisingh posted a screenshot showing 43,265, so we've modified this post accordingly!