Have you ever wondered how you can bike all year round with your family?
My family has a unique situation. Our son, Owen who is now 8, has ADHD. When he was first born, we were completely ignorant as to what ADHD was and struggled to understand how to best support our son (he may also be on the autism spectrum, but that is another conversation for another article).
When our son was 5, I began my journey into triathlon and did what most triathletes do: I bought a bike trainer and signed up for Zwift. My son saw me biking on our TV with my moving Zwift avatar and desperately wanted to join me.
(To give you a sense of the amount of energy he had and what we had to contend with, he and I climbed 54 flights of stairs for a Lung Cancer fundraiser in Downtown Vancouver 2 weeks after he turned 5 – we did it in about 12 minutes. Owen also completed his first triathlon in October 2022.)
I could not find a single resource dedicated to having younger kids ride on bike trainers unless they were teenagers. I did what most parents probably do, researching every possible solution, YouTube, Google, calling bike shops, and checking the specs on every trainer I could find.
Fast forward to April 2022, when I was diagnosed with ADHD at the age of 47. I realized that all my knowledge gained was because I hyper-focused on the research behind ADHD and trying to help my son. I also used the research as an opportunity to include and educate my son in the process of what each component of our journey did; this helped temper some of the impulses he had to do things immediately. It also helped me stress that this is his superpower (and mine).
Your situation may not be our situation. Perhaps your child loves biking so much that they wonder what the "next level" of biking is, or you have your bike trainer or stationary bike set up, and you want some company. If biking isn't your kid's thing, I encourage you to discover your child's strengths and embrace them with them.
I want to share the knowledge I've gained so your child can bike even when it's snowing or pouring rain outside, or if your bike lanes are sketchy and you need a safe alternative.
I've split the article into sections; the goal is to have your child riding beside you in the quickest and most affordable way possible, so I will identify what is optional and what is not.
As most cyclists know, getting into biking is expensive, and if you are a parent on a limited budget, you know there are always ways to save. If you have not been searching Facebook Marketplace, you should start now. You will avoid unnecessary spending and save a lot of money, and you can pick up most of the critical components second hand.
One subgoal I had when I started this was to make sure that my kids were riding their bikes beside me, not a stationary bike or something that wasn't comfortable for them. For the purposes of this article, I will assume that you already have a bike for your child. You do not need gears for the bike – any bike will do.
I also want to stress that you do not need a lot of space! Just the size of your bike and a bit extra and feel free to bring it into your living room (adults do, so why can't kids?).
Trainers
Kurt by Kinetic is the only bike trainer company that makes trainers that can fit wheel sizes starting at 16". The great news is that the Kinetic trainers hold their value extremely well, are built to last, and are some of the best fluid trainers on the market.
You do not need a brand-new trainer, and you don't need a direct drive trainer. (I have no idea if a direct drive would work with a kid's bike but even if it did, the price point of such a device is unrealistic for kids and families). But you do need a "small wheel adapter", which converts your adult-size bike trainer to a kid's size trainer.
You need to have 1) the correct bike trainer style and 2) a small wheel adapter.
Bike Trainer Styles: There are 2 kinds of Kinetic bike trainers you'll see in the marketplace, the older V style, and the newer U style; you will need the U style one. I managed to pick up both the old and new style bike trainers for $80 (I got lucky and am a deal hunter). Don't worry if you pay more (don't go more than $150), they are incredibly sturdy and well-built. You just need the basic trainer, don't worry about all the other fancy models.
Small Wheel Adapter: Kinetic sells the small wheel adapter kit directly on their website (although it appears to be out of stock currently). The price for the kit runs $60 USD.
Here's an early video I made when I first set Owen up without any resistance on his wheel. Below that you'll find an Instagram video showing the small wheel adaptor installed.
Accessories
At this point, if you purchase just the trainer and adapter kit, your child can be spinning beside you for less than $200.
If your goal is to ride alongside your child in a game like Zwift, you're going to need to set up bike sensor(s) and a Zwift account for your child:
Bike sensors (required): just 1 sensor you need in order to get moving on Zwift: a speed sensor. These are the sensors that allow your bike to communicate your wheel speed to Zwift so the game knows how hard you are pushing.
A cadence sensor is nice, but optional. This tells Zwift how many pedal strokes per minute your child is riding.
The most popular sensor brands are Wahoo and Garmin. You can buy them individually or in a pack. They appear on Facebook marketplace quite frequently as well. Personally, I am in the Wahoo ecosystem and have had zero issues with them.
Wahoo Speed and Cadence Sensors >
Garmin Speed and Cadence Sensors >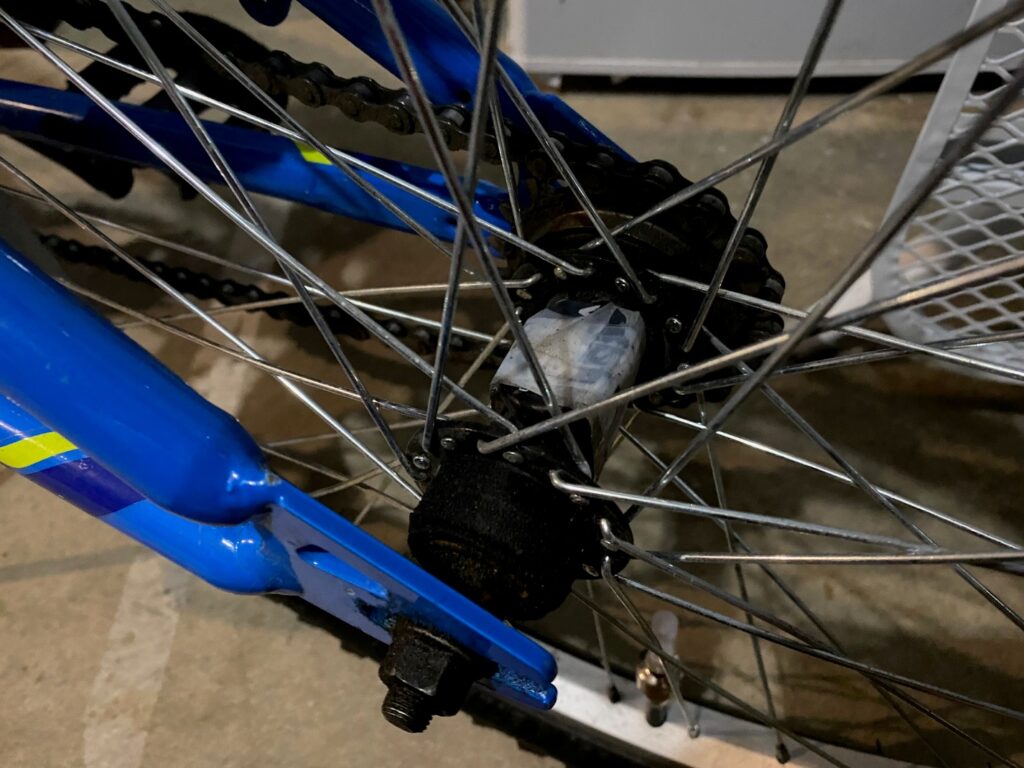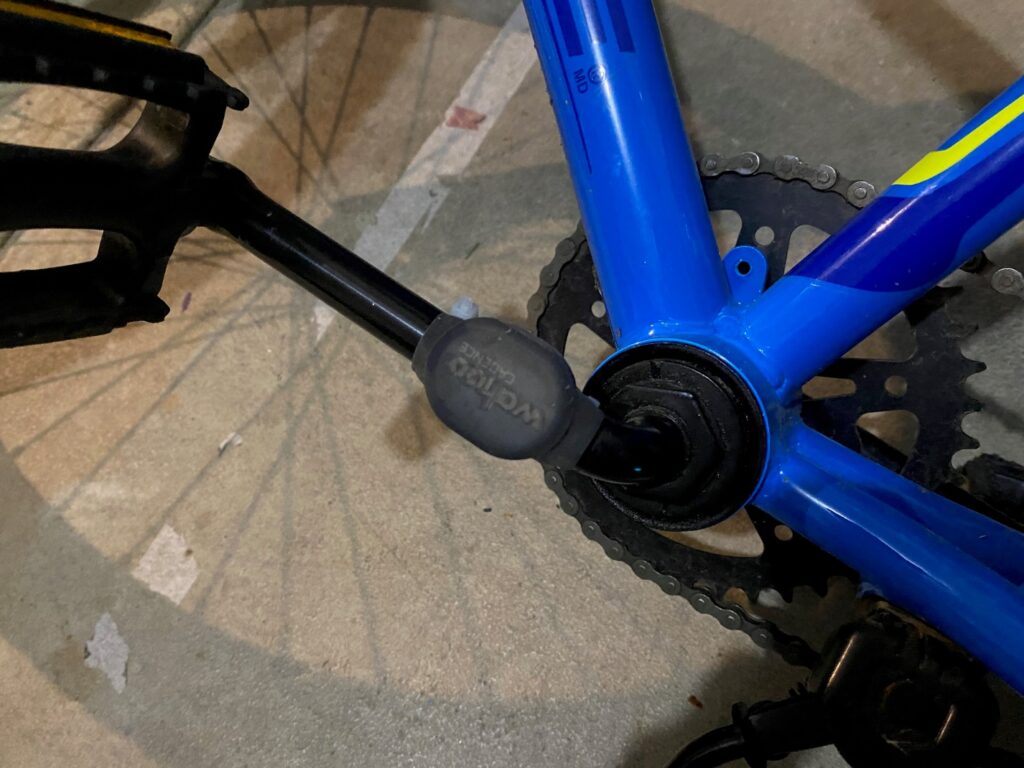 Optional Accessories
Heart Rate Monitor: This is one of those items that is neat but not needed. The heart rate monitor would allow you to observe your child's heart rate in the game. It has zero effect on your in-game experience.
In my experience, I have not found a chest strap monitor that fits around a child's chest (I've asked Wahoo about this and the TICKR and TICKRX are as small as they come for chest straps). I've found the same problem with the Garmin ones.
You do have the option of using Wahoo's TICKR Fit, which is a monitor small enough to fit around a child's arm. If you go this route, pair it with Zwift for in-game heart rate.
Trainer Tires: A trainer tire is a type of tire made just for indoor trainer use. I have not found a trainer tire that fits small enough for a kid's bike.
As nice as it would be to prolong your child's back tire, it isn't critical. It's easy to go to any bike shop and replace the tire altogether. It takes a long time to wear down that noisy tread (depending on how much you ride). Also, as our kids grow, the bike is going to get replaced with a bigger bike anyway, so it's optional.
One word of caution. If you are cycling upstairs in your room, the rubber from the tire will wear off and fly behind the trainer. Find a way to protect your carpet or your area by placing something to catch that flying rubber.
Riser Block: this block goes under your child's front wheel to level out the bike so it's not tilted downward, which can be quite uncomfortable. You can improvise a block with a piece of wood or a thick book, or purchase a block like this one from KOM Cycling.
Getting Signed Up for Zwift
Now that you have your bike, the trainer, and sensors… it's time to sign up for Zwift.
Adult accounts for Zwift have 2 choices, 25km per month for free or $14.99USD per month for unlimited riding.
Zwift offers free accounts to children until they turn 16. You email them through the website requesting access, fill out a form and once you send them back the parent-signed PDF, your access for your child is granted. Here's the link for complete details >
Zwift can be run via Apple TV, iPad, or PC.
In game challenges: I'm not going to go through how to set up Zwift but I do want to offer some practical advice for in-game settings that I learned along the way.
Weight: For your child's weight, I get as close as possible to the options offered in the game. It has an effect (the lighter the rider, the faster you go and there has even been reports of adult riders cheating the system).
Tire size: The smallest tire size that the game offers is 20" wheels. That will do just fine.
Virtual Trainer Selection: Trying to find the right virtual bike trainer is a bit of a challenge. Whatever you do, do not use the unlisted trainers. The one that has best worked for me was the Blackburn Tech Fluid trainer. Yours may be different – try different ones. If it seems like your avatar is moving appropriately in the game compared to how you would on the street, that is the right setting for you.
Heart Rate: In the settings, you don't need to set a max heart rate or FTP, this would only apply if you had a heart rate monitor hooked up and were using their training plans. It won't affect your game either.
Chat: in-game chat is automatically disabled for child accounts on Zwift.
A final word of caution: There is a lot of choice in Zwift for route types. Some of the courses have nice forests that have dinosaurs and other cool things, but there are some very challenging courses with huge climbs that will take your child forever to climb – this could be very demotivating. Try to stick to courses your child (and you) will enjoy!
A Few More Tips
If Zwift isn't for you but you enjoy the bonding time, swap Zwift out for playing Nintendo, Xbox, or watch a TV show while you both pedal.
If you are in the Wahoo or Garmin ecosystem for your attachments, you can record your child's workout on the apps they provide. Your child may think it's cool to see their metrics.
If you don't have a regular bike but your child likes stationary bikes, just attach the speed and cadence sensors to the stationary bike and you are good to go.
Questions or Comments?
Post below!