Your choice of wheelset influences your Zwift speed much more than your choice of bike frame. And Zwift's recent release of the Drop Shop has given us access to a pile of new wheelsets: 26 in total!
The big question for racers is: which wheels are the best?
We've been hard at work in our lab testing wheels and frames, and this is the first of a series of posts giving you some solid, data-driven answers.
*First, a Disclaimer
The "which wheel is fastest" question isn't as easy to answer as you might think. You see, each wheelset has unique weight and aerodynamic (CdA) values, making them perform in ways that mirror outdoor physics. Some wheels perform better on climbs, while others perform better on the flats. Differences between wheelsets will also be magnified or minimized by your own power levels, drafting abilities, and more.
Your best Zwift wheelset, more than ever, depends on your specific situation.
About the Results
Below you will find the five fastest wheelsets in game for flat and mixed courses. "Flat and mixed" covers most routes on Zwift, with the exception of anything including major climbs like Alpe du Zwift, the Epic KOM, or Innsbruck's KOM. This isn't an exact science, but we're pretty confident in our findings thus far.
This list is based on our recent speed tests using the Volcano Climb route which includes plenty of mostly flat terrain plus an 8-minute, 3% climb that isn't too steep. Basically, this course nicely mirrors a lot of Zwift courses, so the results we see here should apply to many other courses as well.
Your Winners
#1: Zipp 858/Super9
1,508,800 Drops to purchase, must be Level 45+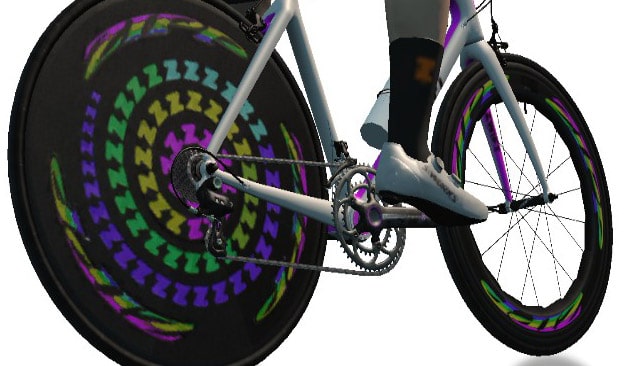 Released with the Fuego Flats expansion, this wheelset just barely edges out the 808/Super 9 below. And how about those colors? This is a fast wheelset… but also one of the heaviest, so don't use it for long climbs.
#2: Zipp 808/Super9
1,075,700 Drops to purchase, must be Level 35+

The original disc wheelset. Beta users got it, then Zwift finally made it available a few years later to everyone. Like the 858/Super9, this is a fast but heavy wheelset, so it's not recommended for long climbs.
#3: Zipp 858
312,400 Drops to purchase, must be Level 37+

The innovative sawtooth design of this wheel and the 454 is definitely eye-catching, and at least in game it makes for some nice speeds. Still a pretty heavy wheel though, so keep this one for the flat and mixed races, especially if you can't score the Zipp 808/Super9 for some reason.
#4 & #5: ENVE SES 7.8 and 8.9
7.8: 205,900 Drops to purchase, must be Level 39+
8.9: 205,900 Drops to purchase, must be Level 31+


ENVE deepest dishes are nice and zippy. The deeper the dish, the faster and heavier they are.
The 8.9 is the deepest-dish ENVE in game, and it's faster than the ENVE SES 7.8 on flats. But it's also heavy enough that it is slower than the 7.8 even on shorter, shallower climbs like the Volcano KOM. In the end, at least on our test laps of Volcano Flat, these two wheelsets turned in exactly the same times.
#6: Zipp 808
177,600 Drops to purchase, must be Level 13+

Formerly the best all-around wheelset, the 808's have slipped down a few notches with the arrival of the newcomers above. It is the easiest wheelset to attain on this list, though, so you may want to pick it up if you don't have the Drops or ability to score the Zipp 808/Super9.
What's the Time Gap?
The 6 wheelsets above are separated by only 5 seconds on a ~35 minute lap of the Volcano Climb route at 300 watts with a 75kg rider. That's a slim margin–one that wouldn't even be noticeable in the midst of a race that involves drafting, accelerations, etc.
The next fastest wheelset, the Zipp 454, is 4 seconds behind the slowest wheel on this list. So the wheelsets above are truly in a group by themselves when it comes to speed on flat/mixed courses.
About the Tron
This is what everyone's asking: is the Zwift Concept 1 (Tron) still the fastest bike?
So far it looks like the Tron bike is still the fastest on flat/mixed courses, but only by the slimmest of margins. It was only 1 second faster on a lap of Volcano Climb than the runners up! More on this in future posts, but suffice it to say this is such a small margin that we're hoping to see a lot of non-Tron bikes in races. Variety is the spice of life!
Coming Soon: Climbing
Watch for an upcoming post discussing the best wheels for extended and steeper climbs… it's a completely different list than what you see above. We're just finishing up our tests now!
Share Your Thoughts
We hope all you Zwifting fanatics found this post useful. Got questions or comments? Post below!