We've already published a list of the fastest frames and wheels in Zwift, as well as the fastest picks for beginning Zwifters. But what if you're past level 15, yet not in the very highest levels? What are your best options for racing on flat or rolling routes?
*First, a Disclaimer
The "which bike frame or wheelset is fastest" question isn't as easy to answer as you might think. Each piece of equipment has unique weight and aerodynamic (CdA) values, making them perform in ways that mirror outdoor physics. Lighter items perform better on climbs, while more aerodynamic items perform better on the flats. Differences between options will also be magnified or minimized by your own power levels, drafting abilities, and more.
Your best Zwift setup, more than ever, depends on your specific situation.
About the Results
Below you will find the fastest draftable frames for flat and rolling courses. This does not include TT bikes, which cannot draft and are in a list by themselves. "Flat and rolling" covers most routes on Zwift, with the exception of anything including major climbs like Alpe du Zwift, the Epic KOM, or Innsbruck's KOM. This isn't an exact science, but we're pretty confident in our findings thus far.
This list is based on our recent speed tests using the Tempus Fugit route.
Top Frames
#1: Zwift Concept 1 (Tron)
Cannot be purchased, must be unlocked

While the revered Tron bike only ranks #5 in our overall list, it tops our Level 30 and below list. Why? Because the only way to beat the Tron's speed is with the Zipp 858/Super9 wheelset, which requires level 45+! (More discussion of how the Tron compares to other bikes in this list is available below.)
#2: Cervelo S5
603,500 Drops to purchase, must be Level 25+

Currently ranked #3 on our overall list, the S5 has always been one of the best frames in game – in fact, it used to be the fastest non-Tron frame available. An excellent choice for any Zwifter.
#3: Trek Madone
887,500 Drops to purchase, must be Level 20+

Ranked just below the S5 in our overall list, the Madone is basically as fast as the Cervelo on flats, but doesn't climb well, hence its lower placement here.
#4 & #5: Cannondale SystemSix and Specialized Venge
SystemSix: 497,000 Drops to purchase, must be Level 27+
Venge: 461,500 Drops to purchase, must be Level 18+


Cannondale's aero offering doesn't disappoint, turning in solid fast lap times on flat/rolling routes. The Specialized Venge (which appears to be the original Venge ViAS) is also a slippery frame. They both turn in essentially the same times, including lackluster climbing performance.
#6: Canyon Aeroad
532,500 Drops to purchase, must be Level 23+

One of the original "Fast 5" from pre-Drop Shop days, the Aeroad still turns in a solid performance on flat/rolling routes, and climbs just a bit better than the Specialized Venge or Cannondale SystemSix.
Top Wheels
#1: Zipp 808
177,600 Drops to purchase, must be Level 13+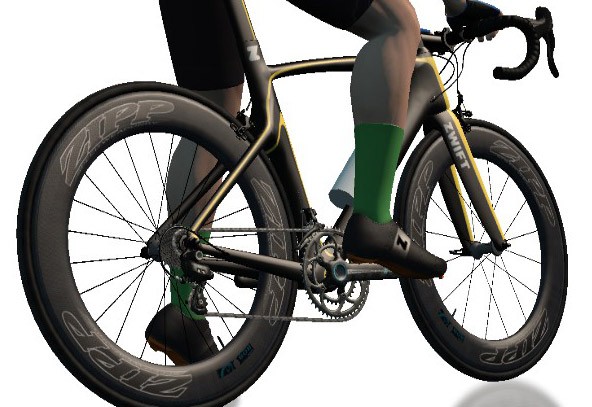 The 808s also topped our list of fastest wheels for beginners, so clearly they sport a killer combination of speed and attainability. It's no wonder, then, that the 808s have long been a favorite among Zwift racers. They beat the next-ranked wheels (Zipp 454) by 7 seconds in our ~50 minute flat test, and that's a big margin!
#2: Zipp 454
284,000 Drops to purchase, must be Level 24+

The sawtoothed 454s turn in a solid second-place performance behind the 808s, but also climb better, so you might pick them up if you want a slightly lighter rig.
#3: Zipp 404
149,200 Drops to purchase, must be Level 15+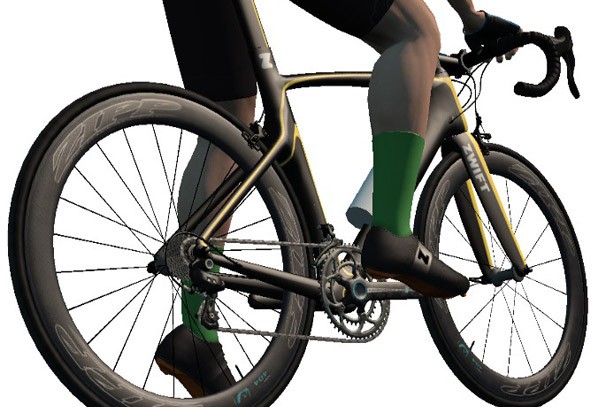 The 404s are slightly slower than the 454s, but climb at the same speed up the Alpe.
#4 & #5: ENVE SES 6.7 and Roval CLX64
SES 6.7: 191,700 Drops to purchase, must be Level 25+
CLX64: 170,400 Drops to purchase, must be Level 5+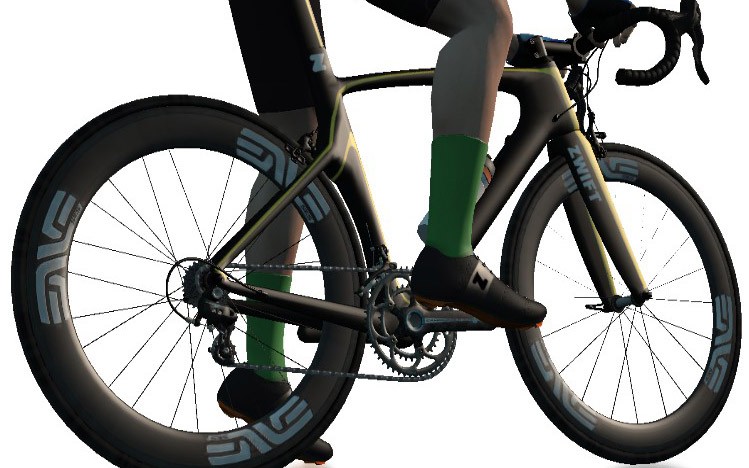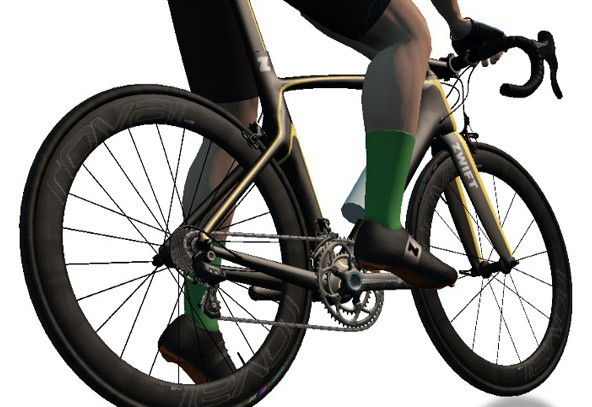 The CLX64s come in at basically the same time as the Zipp 404s, but don't climb as well, so we've ranked them lower. The ENVE SES 6.7 hoops perform the same, so we've called it a tie. Neither of these wheelsets brings anything to the table that makes them stand out from the top three Zipp picks, though, so we don't foresee savvy Zwifters using these wheelsets much.
What's the Time Gap?
The frames above are separated by just 3 seconds on a ~50-minute test on the Tempus Fugit route at 300 watts with a 75kg rider. That's a slim margin, and one you're not likely to notice in the craziness of the Zwift peloton.
The wheels above are separated by 11 seconds on a ~50-minute test on the Tempus Fugit route at 300 watts with a 75kg rider. That's a much more significant gap.
Compared to the very fastest frame and wheel combinations available in Zwift, the top frame and wheel combo on this list (the Tron bike) is approximately 3 seconds slower over our ~50-minute test. The Cervelo S5 with Zipp 808s is 10 seconds slower.
There are other frames not far behind those you see above. See our speed test charts for a complete list. The next wheelset in terms of performance, though, is 5 seconds behind the slowest in our list. A sizeable gap!
A Tron Note
We've included the Tron bike here because it is completely attainable below level 30. (Not sure how to unlock the Tron bike? Read this.) The Tron is much faster than anything else on the list, though – which makes bike choice for Zwifters level 30 and below easy.
As stated above, the next-fastest combination (Cervelo S5 with Zipp 808s) is 7 seconds slower than the Tron bike in our ~50 minute test.
Share Your Thoughts
We hope all you found this post useful. Got questions or comments? Post below!