So you've watched your Drops add up as you ride or run through Watopia, and now you've got over a million (or two, or three) and they're burning a hole in your virtual pocket. What should you buy?
The best answer depends on several factors, but let's firm up two things before we start with the shopping recommendations…
First: know what Drops can (and can't) get you. They can get you frames and wheels in Zwift, but only if you're at a level high enough to access those items (levels are based on XP). Those frames and wheels can make you move a little faster, look a little cooler, or both.
Drops can't buy you access to restricted parts of the course (again, that is level-based). And they won't buy you a race win. While faster bikes help your speed a bit, fitness and strategy far outweigh the effects of virtual equipment in Zwift.
Second: define your goals. Are you a racer wanting the fastest setup? Are you trying to get the same virtual bike as you ride outside, just because? Or maybe you're wanting a particular bike because it looks cool. That's alright, too. But keep in mind our recommendations below are based purely on speed!
Selection Criteria
These recommendations are based on hundreds of speed tests conducted in Zwift over a variety of courses and equipment setups. Read more here >
Additionally, these are recommendations for beginners. More advanced Zwifters (level 15+) will be addressed in future posts.
Aero Setup Recommendations – for Flat/Mixed Courses
The Zwift Aero frame is the easiest to obtain (level 6+, 319,500 Drops) of the fast frames. With stock wheels, it's only 6 seconds behind the fastest bikes in game on a ~35 minute lap of Volcano Climb. Or take it to the next level with the Specialized Allez Sprint (level 14+, 127,800 Drops) which knocks 3 seconds off your lap time and climbs better than the Zwift Aero.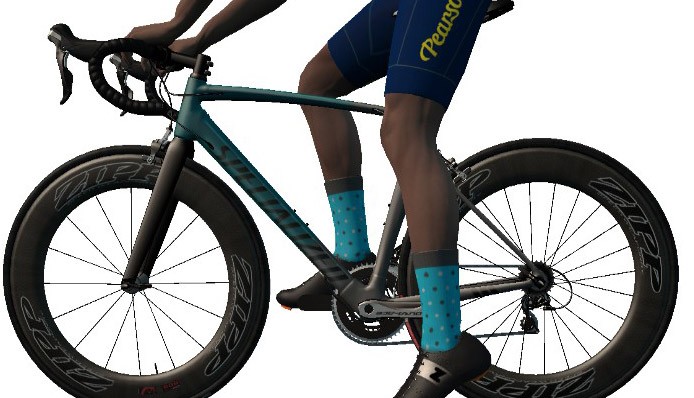 Couple either of those frames with the trusty Zipp 808 wheels (level 13+, 177,600 Drops) and you'll have a slippery race bike ready to go.
Lightweight Setup Recommendations – for Climbing Courses
Zwift's best climbing frames are easier to attain than the best aero frames. If you can't wait reach level 11 for the best climbing frame, the Chapter2 Tere (level 6+, 390,500 Drops) stands out in a crowd and climbs quickly. The Cannondale Evo (level 9+, 213,000 Drops) is also a popular frame and a slightly better climber than the Chapter2 Tere.
But the fastest climber of them all is the Specialized Tarmac Pro (level 11+, 408,300 Drops).

When it comes to wheel choice for your climbing rig, the very best can't be bought: the Lightweight Meilensteins are only available via the prize spinner atop Alpe du Zwift. Many riders report having to summit the Alpe 10-14 times before striking gold, so if you don't fancy this (or can't even access the Alpe roads yet) pick up the Enve SES 3.4 wheels (level 4+, 191,700). They're only 5 seconds behind the Meilensteins in our tests up the Alpe.
Your Thoughts
Hopefully this helps make your buying decisions a bit easier. Share any questions or comments below!